She Turned Her Darkness Into Colour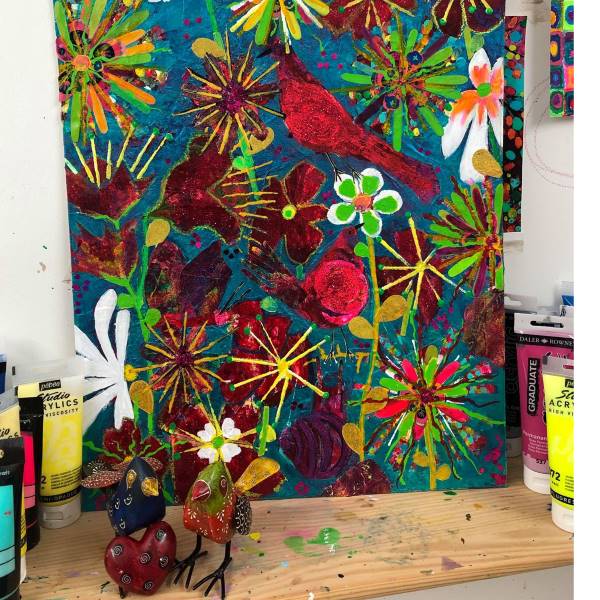 She Turned Her Darkness Into Colour
A Journey of Grief & Transformation
My Experiential, Expressive Art Approach encompasses my life-long love of Expressive Art making, over 20 years of Counselling & Teaching.
My videos are created in the moment as I make the art. I have no plan, it all develops completely Intuitively, moment by moment. You will Learn how to do this too.
As you work through my videos and reflective prompts between each video, get creative alongside me and dip in and out of this eBook to gain a fuller understanding and experience of what I have created & all it offers to you.
I generously share my Approach and my own Personal and Reflective Journey to help you understand my Approach by placing it in to a context.  I share my self fully because this helps Artists and those interested in Well Being and Self Awareness to develop this same ability.
I invite you to consider and reflect on what is happening for You as I do, during your own journey through this experience.  Your own Stories, events, memories, people & history are likely to float around in your Awareness. These are opportunities and potential to dig and delve a little, or a lot…  
To discover more about oneself is very important.  It eases our Stress, helps us feel calmer and happier in our lives.  Listening to ourselves in this way enables us to problem solve.
Self Paced with Life time Access
If you engage with my Approach, you Will Benefit in the ways you most Need
Your Art will be completely Unique to you.  It won't look like anyone else's.  Every piece of art made using my Approach is completely unique to each of us, rather like our DNA.  Your art will be bursting with Symbols unique to You and your Grief, Loss & Transformation. 
You are your own Expert
Your art will be a Unique Expression of Your Grief & Transformation.
If you choose to make another piece of art through this process at a later date, it will be different again, depending on what is around at the time for you. You can create again and again, gaining more, in different ways.
 I have included an eBook - my FREE Gift to you - to download &/or print for your own personal use.  I created this as a Resource and Reference to accompany you as you work through my wonderful online experience.  If you are a creative counsellor you will find this beneficial in developing your own Expressive Arts courses.
I bring everything I have ever learned Therapeutically & Creatively to share with You
Sign up below for Life Time Access
About Kassi...
I'm a Psychotherapist inviting Spontaneous Self Expression through mixed media art, intuitive collage, creative writing and therapeutic, experiential groups.
I model my Abundance of Empathy, Love & Acceptance which positively impacts everyone I interact with. People feel held and cared about, prized, honoured and respected by me.
I LOVE how Creativity makes space for our Inner Child to be Seen & Heard,
raising Confidence & Self Esteem as we Share Our Stories through Art 

I Believe my never-ending Fountain of Creativity is my Gift to You and the World

No matter how wobbly you feel, You CAN make Art too 
and I can Teach you How in my Loving, Relaxed Style of Teaching

You can develop Self Acceptance, Inner Calm, ease Anxiety, Stress & activate your Innate Capacity to Self Heal


In 2008 I created What Kind of Tree Am I? an Inspirational Tree Painting process which was a catalyst for all of my other online Art courses which I am So Proud of!

I Teach How your Fingers, Intuition & Innate Body Wisdom has the capacity to Heal at a deep, Unconscious level Without The Need for Words

and How you can Relate with yourself, to transform Self Criticism, Doubt & Fear into Self Acceptance & Inner Calm 
My Values: Empathy, Accompaniment, Self Acceptance, Self Witnessing
I Encourage: Body Wisdom, Unconscious Process, development of Self Awareness & Relationship with Oneself to become our most Truest Self
Informed By: Carl Rogers, Client Centred Psychotherapy, Carl Jung, Relational Transactional Analysis, Somatic Experiencing & Psychodrama
I Celebrate everyone as Unique and Individual on their own Journey 
 One time, Life Time Investment:   £199.00
Sign up in the usual way below for immediate, life time Access
| | |
| --- | --- |
| Duration: | Lifetime |
| Price: | £199.00 |