Worry Tree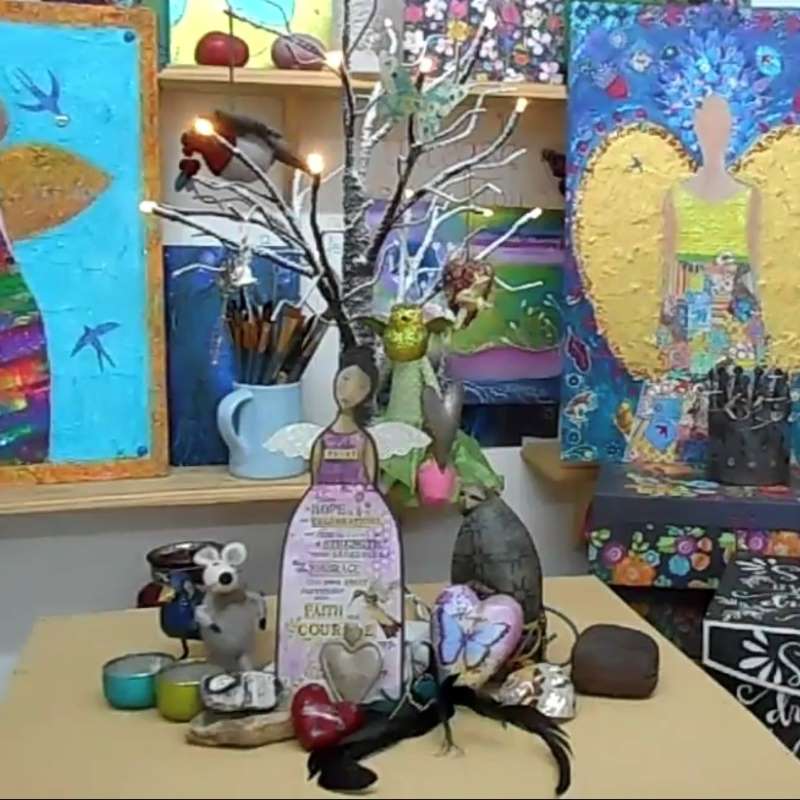 Discover how you can add Depth & Potential
to your Practice, using Objects, Miniatures & Projection
as a Therapeutic Tool for Counsellors/Therapists/Coaches
offering 1:1, Groupwork or Training Workshops
I share information about how you can take this concept and offer it as half day or full day Workshops, ongoing weekly groups for Personal Development & greater Self Awareness, to increase your Income as a Therapist or Coach. 
You can also integrate this in to your Supervision Practice or use it for personal exploration to 'check in' with Oneself
Inside you will find four Videos and five Prompts
I am Kassi Martin, a BACP Accredited Counsellor, Psychotherapist & Expressive Artist with over 20 years experience. I work in Person, 1:1 & Groups online and in my Art Studio
I have Practiced, Trained & Mentored within Higher Education, NHS, Private Practice & Supervision


This Tool can be used for:-
Self Expression, in-depth Exploration of Self, Other, Relationships or Groups

It offers an opportunity to dig deeply into a System where Conflict or Confusion exists for example. It can offer Exploration of our Community of Selves, Problem Solving, developing Edge of Awareness and greater Self Understanding

It can be used in many different ways which are shared within the Course material 
The power of Projection is so potent it has the potential for a Therapeutic Conversation lasting a full hour and beyond into other sessions


I share from my own personal Process to place this Tool in a Context.  I share openly and offer you the Insight I gained from creating the Object Grouping I created.  From time to time I offer this as a four week group process, please enquire if you are interested in this.
You will also be learn how you can take this into your own Practice and develop it into Group Workshops or Training settings increasing your own Income as a Therapist.

What You Will Need to Participate:

An area on a table, coffee or knee high table is good - 26" square/circular would be ideal
A dining table or kitchen worktop for your personal course participation 
I use a small rustic, artificial Tree as a Base to work from - you don't have to


Objects You Could Use - you won't need many for the course

Natural - shells, stones, small drift wood, crystals, fir cones, small rocks

Small Ornaments - Felted Mouse or other animals, Metal objects such as a Fox or Butterfly, Children's mini Toys Such as a rubber Dinosaur, a car or bus... it really could be anything small

Beads, Sequins, Buttons, broken Jewellery, a bracelet, a heart, a small hand mirror
Miniature Teddies or other Toys

Feathers (you can buy Feathers online - a more hygienic option to gathering)

Christmas Tree baubles, small tree decorations, anything that captures your interest
Small Photographs of relatives, friends, pets or places


Inside my eCourse, there are four Videos and Reflective Prompts to introduce you to this Creative Concept. I guide you through the Process personally via my Videos and share openly, as if A Client for you, sharing my own Process to help you place this concept into a Context.
I feel confident by the end of this you will be itching to offer this to your Clients as a useful and beneficial Tool in your Counsellor/Coaching Tool Kit.
I share information about how you can take this concept and offer it as half day or full day  Workshops, ongoing weekly groups for personal development and self awareness to increase your Income as a Therapist or Coach.  You can also integrate this in to your Supervision Practice.
Sign up in the usual way below for immediate, life time access
 About Kassi Martin
I'm a Psychotherapist with over 20 years experience.  I invite Spontaneous Self Expression through mixed media art, intuitive collage, creative writing and therapeutic, experiential groups.
I model my Abundance of Empathy, Love & Acceptance which positively impacts everyone I interact with. People feel held and cared about, prized, honoured and respected by me.
Many experiences that shape our Lives happen before we have the capacity for speech, which is why Talking Therapies has limited impact. I have developed eCourses to offer something tailor-made, which also reduces Anxiety & Stress, eases Chronic Pain and Fatigue, lifts low Mood and much more
In an often abrasive World, where our understanding of others is not always reciprocated, I strongly support the importance of Time and Space to re-energise through Creativity and Self Expression through Symbols
In 2008 I created What Kind of Tree Am I? an Inspirational Tree Painting process which was a catalyst for all of my other online Art courses which I am So Proud of!

I will teach how your Fingers, Intuition & Body Wisdom have the capacity to Heal at a deep, Unconscious level - Without The Need for Words

I teach 'how' you can relate with yourself so you can transform self criticism, doubt & fear into Self Acceptance and Inner Calm
My Values: Empathy, Accompaniment, Self Acceptance, Self Witnessing
I Encourage: Body Wisdom, Unconscious Process, development of Self Awareness & Relationship with Oneself to become our most Truest Self
Informed By: Carl Rogers, Client Centred Psychotherapy, Carl Jung, Relational Transactional Analysis, Somatic Focusing & Psychodrama
I Celebrate everyone as Unique and Individual on their own Journey 
£49.00
Sign up below in the usual way for immediate access. 
Add me to your Contacts you won't miss my email  -

This email address is being protected from spambots. You need JavaScript enabled to view it.
| | |
| --- | --- |
| Duration: | Lifetime |
| Price: | £49.00 |